A Conversation with Michiel Huijben by Warda El-Kaddouri
"How do we shape the world?" That is the question that is always on Michiel Huijben's mind, a visual artist whose work centres around how architecture and space influence our lives. Huijben studied in Breda, Amsterdam and London, and currently lives in Rotterdam. He explains how he sees the world: "I am trained as a fine artist, but I look at everything through an architectural lens." The question of space in a broader sense inspired Huijben to dive into the Open Archief in search for the history of the social function of public places, such as the Malieveld in Den Haag.
When Huijben used to focus on space in his artistic works, he would do so intuitively. As he reflects back on his works he says: "At one point I realized that the intuitive approach I used was not a choice. It was all I had." That realization came when Huijben read the book Eccentric Spaces by Robert Harbison. "That book was a real eye-opener," he declares, "Harbison discussed architecture in a different way than I did, connecting it to imagination and fiction. I started researching him, and when I discovered that he found a course in architectural theory in London, I decided to do that."
Eight years later, Huijben finds himself doing archival research as an artist-in-residence for Open Archief. "Honestly I am overwhelmed by the amount of material that is open access." For the exhibition Huijben plans to use a mix of moving images from the Netherlands Institute for Sound and Vision as well as scans from the International Institute of Social History (IISH) and Het Nieuwe Instituut. He describes his current state of his work: "I am making a timeline to create a story with all the material I have collected."
Due to the Covid-19 measures, physical access to the archival institutions was very limited. Huijben completed most of his research online. "I was a bit sad about that. Online ­research is much more direct. You type in a keyword and it brings you exactly there. But when you are in the physical space of an archive, you can also find something by accident. Sometimes the folder you searched for contains other things as well." Huijben also points out that digital archival research also brought practical questions to light that would otherwise not have been addressed. He exemplifies this by mentioning how the user interface works or how archival material is indexed online.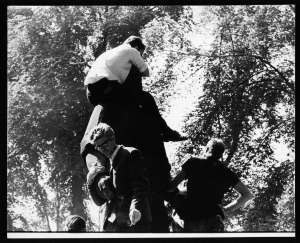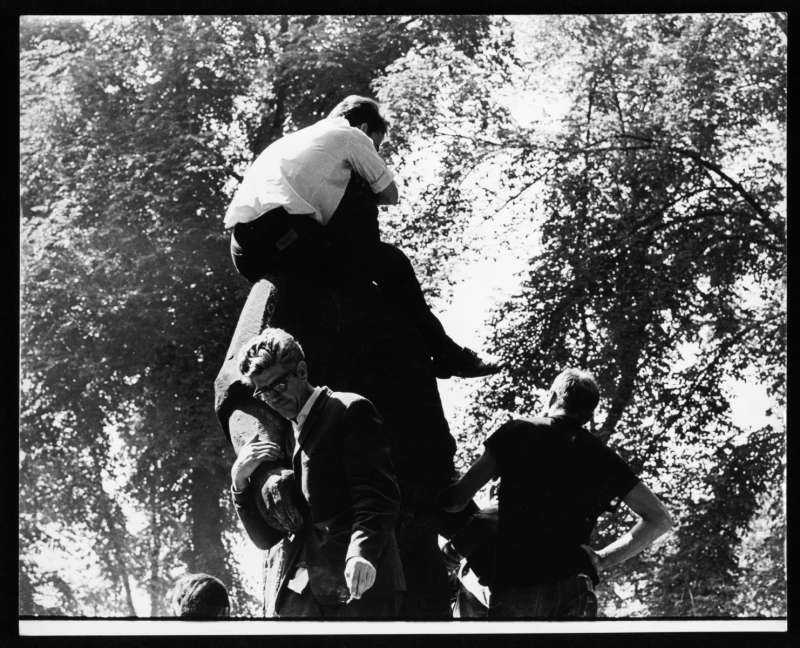 The only archive Huijben was able to visit physically was Het Nieuwe Instituut. That experience of physically being in an archival institution, gave him the intimate feeling of being close to history. "In online research you are researching representations of something, whereas in the physical archive you are looking at the object, without a filter," he says, "when I am holding a drawing of the 1800s, then I am the link between history and present. The same goes for architecture and the city. The house in Rotterdam where I live was built in the 1940s because the city was bombed during the Second World War. That is also history persisting into the present. You could say the city and its architecture are in fact also an archive. You can read history from them, but unlike the archival institutions, they don't come with a description."
During his research process Huijben started thinking about the relationship between democracy, public space, and the archive. At Sound and Vision he found a silent black and white moving image from 1924, portraying a homeless couple living presumably somewhere outside Amsterdam. You can see the man making the bed in a seemingly improvised sleeping space and handing over a cup of water to the woman. "It was a haunting image. It really touched me. But what surprised me was that this was the only material I found depicting homelessness in the city. How is that even possible?"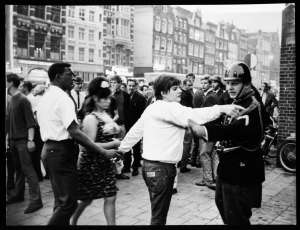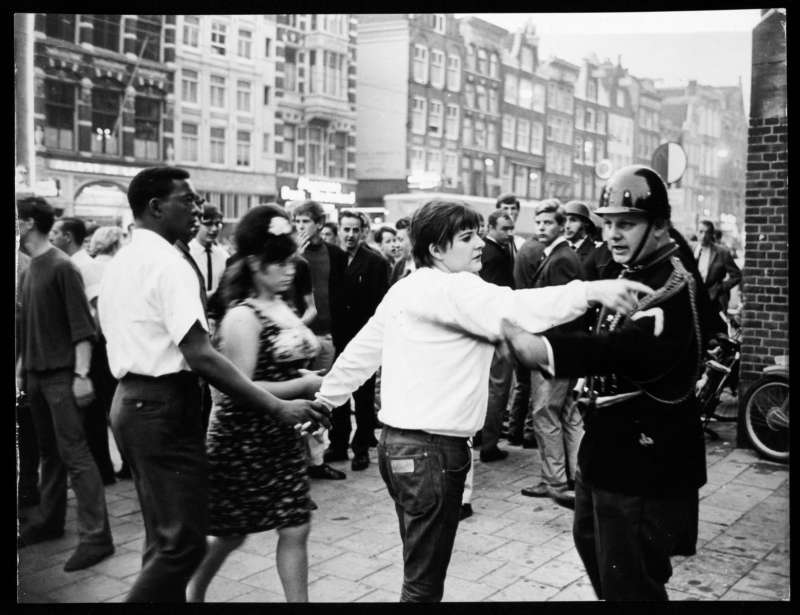 This question inevitably poses further questions on representation and whether the archive itself is a democratic space. "The archival ­institutions try to be. But we know that there are principles and committees who decide what is considered acceptable in the archives. People experience the city in different ways. Women's experiences are not comparable to men's experiences. But that is not reflected in the archives," he points out and adds "archives are supposed to be national archives. I grew up in the countryside, but you don't find places like where I am from represented in them. The archive is a very urban environment."
At some point Huijben realized that he wanted to start localizing portraits of public spaces in all three archival institutions by focusing on the Dam Square in Amsterdam and Malieveld in Den Haag. "They are prototypical architectural public spaces, so the choice was obvious." Huijben achieved that by following three trajectories. First, he researched the design process of the artists and architects involved at Het Nieuwe Instituut. Then, he tried to find moments of celebration in Sound and Vision, like the Queen's visit to Dam Square. And finally, he searched for moments of conflict in the IISH.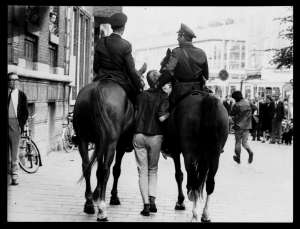 He clarifies: "I am aware that this is not a realistic portrait. The material I found is beautiful, but it is incomplete. There are lots of gaps in regular daily life between these moments." That is why Huijben also found some material outside of the three archival institutions. "I started researching material on the internet that is free of rights. And I found footage that would make the image more complete. For example, I came across a YouTube video of a tourist filming Dam Square in a very methodical way, showing everything that was going on, just on a regular day." Huijben thinks that this is one of the inherent problems of the archives as he says "what they focus on and what they show are rarely those non-­moments. Just a regular day in someone's regular life."
"The Dam and the Malieveld are the places that are pronounced in the archive. And that is quite a challenge, because I don't necessarily want to make a work about the Dam Square or Malieveld. They have been documented extensively already." But then, how to tell a story about public spaces if some are already represented more than the others? Huijben's experience is an illustration of the vicious cycle that many archives can find themselves in. Because when a particular place, event or person is so evident in the archives, there is inevitably more research about it which in turn creates more representation in the archives. Huijben responds: "I decided I want to make a more general story about the idea of public space. Something more general, that is not tied to specific events of conflict, celebration, or to a specific time frame. Only then, can people fill in that gap with their own imagination and feel the liberty to project what they see onto their own environment."
During a rare moment of physical research in Het Nieuwe Instituut, Huijben stumbled upon an architectural model of the monument of Dam Square. "The architect who was in charge of the monument and the artist who made the ­allegorical sculptures surrounding the pillar used the model as a speaking object. It was a way for them to have a discussion on the possibilities of how the monument would look like." Yet, what intrigued Huijben was not necessarily it's mere function, but the idea of two men holding, touching and passing the object around the table.
Although he came across this physical object, he decided not to use it for the exhibition. The idea behind his decision was to share with the audience the same online screen experience as the artists-in-residence had while doing their research during Covid times. "We had very limited physical engagement with the archives, so I wanted to reflect that in the work itself."
Huijben came up with the idea to show a split screen video via two upright screens. "That is how people engage with space now­adays: through their phones." By fusing moving and still images together, he hopes to create a video essay. The model of the Dam will only be present as a moving image. Huijben describes his process: "I will film the object, so that it will still maintain its role in the exhibition. Maybe I will even show the practice of archiving and how the model is handled; it is very neatly packaged, and you have to wear gloves when you touch it."
When looking at specific moments of protest in public space, Huijben realized that a lot of materials were not accessible due to copyright and licensing issues. "Thanks to the IISH, I came across these beautiful photographs by Maya Pejić of the Telegraaf riots in Amsterdam dating back to 1966. Pejić was a photographer and anthropologist, who was really in the crowd and not reporting from a distance. She donated her archive to the IISH, so it became license-free."
Huijben explains how requesting licensed materials can be quite a bureaucratic challenge: "Materials by the Dutch architect ­Gerrit Rietveld are almost never license-free and will almost always cost you. I think that system is based on the myth of the artistic genius. As if Rietveld himself was never inspired by other artists. His work may be copyrighted, but all the intertextual materials that he drew from the other artists that also influenced him are in there as well."
"To have been able to work with and have open dialogues with the archivists as well as with the other artists, who each have their own ways of searching through and looking at the archives were so enriching. This artist residency at Open Archief brought me a lot of inspiration for future projects and artworks."