Artist program
On a beautiful afternoon on the 6th of May, an Open Archief Input Party took place at the International Institution of Social History. Luckily this year, Rachel Sellem and Elki Boerdam arranged a live meeting as opposed to the digital input party the Open Archief team had last year. last year.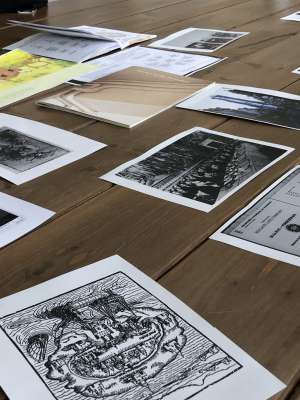 Input Party: an introduction
Input Party is a project that researches the role of personal referential image archives in the process of artists. It uses images to relate to the artist's reference, association, and visual expression and by sharing these archives with each other, we learn in what way these images can be of value to the artistic practice and to others.
The Input Party is for and by artists and consists of multiple conversations about archival materials that artists bring themselves, with the aim of guiding each other further in their artistic process and their personal narratives surrounding archival materials.
Rachel and Elki guided the artists through the images and thus through their research by introducing personal archives in relation to their practice.
This resulted in a table full of intriguing images, with the artists around the table, all telling personal stories about private archives.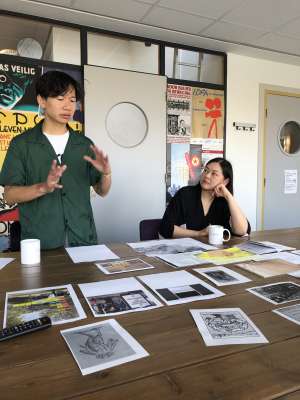 Diving deeper
The second part of the Input Party evolved around questions behind the different archival materials that were on display this afternoon. Whilst walking around the table, the artists had conversations about images and archives. It is interesting to think about the question of why we collect images and what an archive can consist of.
In making stories and inventing different narratives, the 'image', or even the mental image, is an interesting process.
Even in a visual artwork, it is not always about what is real anymore, it i about what is in your mind and what that means as a story; What the mental picture or image means to you and to others.
Another important notion was the question of what an archival institution is. The archive as an institute has a position of power. When something is inside an archive or archival institution, most of the time, it stays there. However, what does it mean when the 50 kilometers of stacks for archival material is actually full? What if there is no more place for more materials in the future? Does this mean that your mission is finished?
Interesting thoughts were exchanged on the archival institution, archival material and the meaning of the archive.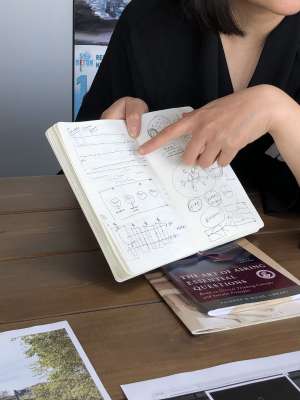 Researching archives
Under Rachel's and Elki's guidance, the artists came closer together and discussed their projects and research in an active, fun and thorough way.
In October, at the end of their working period, the research results will be displayed in Het Nieuwe Instituut, showing the new works from the four artists participating in Open Archief.
If you're interested in an Input Party, you can find more information here.